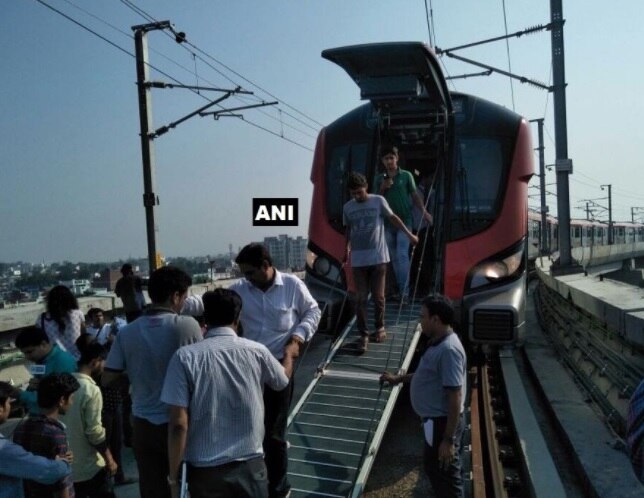 Lucknow, August 6: A Lucknow Metro train broke down on a day when it opened for the public to use. The metro service was inaugurated on Tuesday in the presence of Union Home Minister Rajnath Singh and UP CM Yogi Adityanath.
Reports say 500 people were stranded on the train which was stuck at the Mawaiya's special span. People panicked as lights and air conditioner went off. Since it was the very day of operation, the Lucknow Metro Rail Corporation took a long time to reach the spot. After the technical glitch couldn't be rectified, passengers were taken out using the front and back doors.LMRC team appealed to the passengers, not to panic and rescue was on their way. Meanwhile, trains on the opposite lines ran seamlessly.
The Lucknow Metro was launched with much fanfare on Tuesday. Home Minister Rajnath Singh had inaugurated the service in the presence of CM Yogi Adityanath. It was said that Lucknow Metro was the most modern metros in the country. However, the first-day glitches narrate a different story.
Addressing the gathering at the inaugural ceremony of the Lucknow Metro, Adityanath said, "The wait for travelling in the Lucknow Metro is over. The services will be opened for the public use from tomorrow. The metro service will help reduce air pollution in the state capital in the long run, will contribute to savings in terms of money and time for the passengers."
Source by:-india